The long-awaited rollout of 5G is now underway.
In the U.S., wireless carriers like Verizon, Sprint, AT&T, and T-Mobile have initiated 5G services in nearly 50 cities across the nation. And 5G services are also available in many parts of Europe, Asia, and Australia.
According to GSMA Intelligence, 5G is now live in 24 markets globally. It says:
By 2025, 5G will account for 20% of global connections, with take-up particularly strong across developed Asia, North America, and Europe. To support this generational shift and further drive consumer engagement, operators are expected to invest around $1.1 trillion worldwide between 2020 and 2025 in mobile CAPEX, roughly 80% of which will be in 5G networks.
This next generation of mobile communication will upgrade your smartphone with speeds up to 100 times faster with much greater connectivity and delivering latency of just a few milliseconds.
But 5G is bigger than just faster smartphones.
5G is expected to propel innovation across multiple fields, including AI, transportation, manufacturing, defense, health care, agriculture, shipping, warehousing, education... The list goes on.
In manufacturing, 5G is already being implemented and experimented with in efforts to improve efficiency, prevent maintenance, and generally lower costs associated with the manufacturing process.
Heating and hot water products manufacturer Worcester Bosch claims to have been the first manufacturer to implement 5G networks. The company says 5G communications helped prevent maintenance and provided real-time feedback that was able to solve problems before they happened. Carl Arntzen, CEO of Worcester Bosch, explains:
We are using this innovative 5G testbed to pioneer secure Industry 4.0 use cases in the areas of Preventative Maintenance and Robotics to drive productivity. These require large numbers of sensors and high network availability, hence our interest in 5G.
Meanwhile, BMW and Chinese partner Brilliance Auto have recently given an update on 5G networks being used at three plants in China. They say 5G systems have provided real-time data exchange, which has significantly streamlined the production process. Johann Wieland, president of the BMW/Brilliance Automotive (BBA) joint venture, says:
5G is a groundbreaking technology with the potential to revolutionize industrial production. BBA is taking a leading role in testing the use of 5G and developing new innovations and procedures to improve industrial productivity.
Early studies by the American Society for Quality have shown smart manufacturing has increased efficiency for 82% of early adopters polled. Of those surveyed, 49% reported lower product defects and 45% said they had higher customer satisfaction.
5G is expected to have a hugely positive impact for manufacturers and a significant windfall for global GDP. Qualcomm expects the transition to 5G will boost global GDP by $3 trillion, providing over 22 million jobs by 2035. That's the equivalent of adding an economy roughly the size of India.
In health care, 5G will offer more customers new access to care outside of traditional hospital environments, provide new methods of delivering treatments and services, and give hospitals much-needed data management programs.
Some even see 5G as an entirely new chapter in health care's history, going so far as to compare 5G's impact on health care with breakthroughs such as the discovery of the germ. Jennifer Esposito, worldwide general manager of health and life sciences at Intel, says:
When people finally understood what germs were and how they drove the spread of disease, it revolutionized health care... The convergence of technology — 5G and AI and sensors — is going to create this monumental shift that will transform how you understand people's health, how you deliver treatment, and how you expand access to care and experts.
Esposito is not alone in her zeal.
In a report titled "The Path to 5G for Health Care," senior member of the Institute of Electrical and Electronics Engineers Krishna Rao writes:
The healthcare vertical globally is all set for a paradigm change with an increasing adoption of devices with sensing equipment, technology, and telemedicine evolution.
In energy, 5G will be used to help implement smart cities to reduce waste and save tax dollars, provide higher profitability for energy producers and suppliers, lower costs, and increase accessibility for consumers. International engineering firm Black & Veatch predicts:
For the utility sector, 5G technology will help unleash the next wave of smart grid features and efficiency through low-cost connections, improved monitoring capabilities, and better forecasting of energy needs.
Smart grids combine the traditional energy grid with better communications and information control to increase efficiency and reduce waste. The various parts of our current electric grid systems communicate with each other in what we call "real time" right now. But what we call "real-time" communication today can take a few seconds or even minutes. 5G will change that.
Faster wireless 5G services will enable energy grids to communicate in real real time to understand usage, predict energy peaks, support load balancing, avoid waste, improve energy distribution, and ultimately reduce energy costs.
With 5G connectivity, utility companies will also be able to capture and analyze data from millions of currently unconnected devices in order to more accurately monitor demand and enable better forecasting of energy needs.
Smart grid systems are already being installed, despite connectivity issues with current 4G technologies being used. But the results are very promising.
By installing smart grid systems, Chattanooga, Tennessee, was able to reduce the duration of one power outage caused by a severe windstorm by over 50%. Doing this saved the utility company $1.4 million in operational costs — for just that one storm!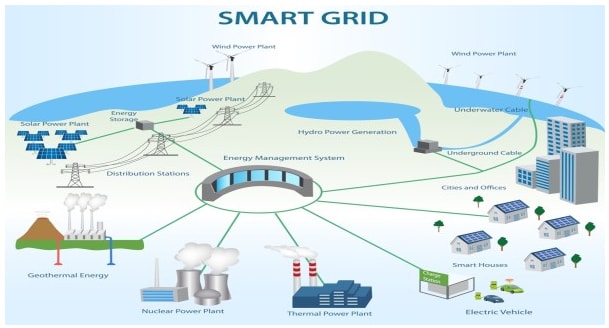 Smart grid systems also allow utility companies to reduce energy waste in practical ways. Smart street lighting can automatically dim public lighting when no pedestrians or vehicles are present. This can save on city tax bills and reduce energy waste. Dr. Jeffery Torrance, vice president of business development for Qualcomm, says:
We are all mindful of becoming more efficient with our energy, and with 5G connectivity this can extend to infrastructure that has remained consistent for years. For example, intelligent street lighting, where street lights can dim when no activity is detected, could be a significant saving in both money and wasted electricity. This thinking can be used in other instances, such as smart grids or smart meters, to help us understand how we consume energy and what we can do to improve.
Smart lighting has begun to be rolled out in cities like San Diego. And again, the results are very encouraging. By networking the lights, the city of San Diego has saved $250,000 a year in electricity and maintenance costs.
Across the nation, the potential savings from smart street lighting alone is estimated to be more than $1 billion per year.
The evolution of wireless networks toward 5G will also allow utilities and consumers to monitor individual energy use via smart meters. Smart meters work with smart energy monitors to allow customers to view how much energy they're using and how much it's costing them.
Smart meters have already been introduced to many homes around the world using existing 4G telecommunications infrastructure. But with the introduction of 5G, smart meters will be more precise, allowing for more data to be sent and received more often, resulting in a lot more detail for the consumer and service provider.
5G also offers the energy sector a more advanced architecture for security. This will enable utilities to have better features and protocols for authentication, integrity protection, network security, and user confidentiality.
There is much more potential for energy companies to save costs, operate more efficiently, and improve customer service by connecting plants and devices to data processing facilities and each other.
Bottom line is 5G is much more than just fast cellphones. It's the network of the entire future.
5G isn't like most of the other hyped-up opportunities out there. Markets like cannabis, cryptocurrency, and meatless meat have limited consumer bases. Sure, lots of people smoke weed, love Bitcoin, and want vegan meat. But everyone is going to use 5G.
Just consider how ubiquitous 4G networks are today. Pretty much everyone with a cellphone is using (or was previously using) 4G — men, women, rich, poor, Republicans, Democrats, the police, criminals, lawyers, judges, jurors, jailers, jewelers, jugglers, flat Earthers, scientists, HVAC repair people, horse whisperers, your uncle Bill, dictionary definition writers, Michael Douglas, tennis instructors, Knicks fans, guys who bend balloons into animal shapes... You get the picture. Sooner or later, all those folks will be on 5G networks.
Truth is, you're really not going to even have much of an option sooner or later.
For most people, 5G is just another service provided by their cellphone carrier, like 4G is today. And sooner or later, 5G will be the only thing that's going to be offered.
Fact is, you can't buy a phone using 3G technology exclusively right now. It's just not offered.
4G networks will no doubt still be supported for the next several years. But anyone buying a new cellphone or upgrading her plan is eventually going to be on the 5G network.
5G isn't something you're going to choose. It's what's going to be offered. And that makes it nearly a guarantee for investors.
As it stands today, the total number of 5G connections around the world is still a fraction of of 4G connections. In 2020, less than 5% of mobile users were on 5G networks. But that's a figure on the verge of a breakout.
The GSMA forecasts 5G connections will account for about 20% of global connections by 2025 and contribute $2.2 trillion to the global economy over the next 15 years.
5G is the future. And being that it's still in its infancy, there's never been a better time to be an investor.
Major wireless carriers like Verizon (NYSE: VZ) and AT&T (NYSE: T) will likely do well throughout the 5G transition offering new, exciting, and likely more expensive services and options. However, 5G hardware manufactures like Ericsson (NASDAQ: ERIC), Nokia (NYSE: NOK), and Qualcomm (NASDAQ: QCOM) probably stand to benefit the most.
The GSMA says 5G will become "the first generation in the history of mobile to have a bigger impact on enterprise than consumers."
For investors, 5G offers a once-in-a-generation opportunity to safely invest in a rapidly growing technology.
Until next time,
Keith Kohl
@KeithKohl1 on Twitter
A true insider in the technology and energy markets, Keith's research has helped everyday investors capitalize from the rapid adoption of new technology trends and energy transitions. Keith connects with hundreds of thousands of readers as the Managing Editor of Energy & Capital, as well as the investment director of Angel Publishing's Energy Investor and Technology and Opportunity.
For nearly two decades, Keith has been providing in-depth coverage of the hottest investment trends before they go mainstream — from the shale oil and gas boom in the United States to the red-hot EV revolution currently underway. Keith and his readers have banked hundreds of winning trades on the 5G rollout and on key advancements in robotics and AI technology.
Keith's keen trading acumen and investment research also extend all the way into the complex biotech sector, where he and his readers take advantage of the newest and most groundbreaking medical therapies being developed by nearly 1,000 biotech companies. His network includes hundreds of experts, from M.D.s and Ph.D.s to lab scientists grinding out the latest medical technology and treatments. You can join his vast investment community and target the most profitable biotech stocks in Keith's Topline Trader advisory newsletter.