There's nothing I like better than finding a strong blue chip stock that's trading at a temporary bargain.
Wait… there actually IS something I like even better than that…
And that's finding one of these stocks that also pays a nice dividend!
Because when you can couple the reliable income dividends with a strong company whose stock is ready to make a major move higher — that's the ultimate way to profit.
Think about it… these unique stocks actually pay you along the way as you wait for your money to grow!
And that's why I want to share with you exactly what I'm seeing on my radar right now. I've found three dividend stocks that are essentially paying you to kick back and relax while you wait to double your money.
That's right… I think all three of the stocks I'm about to share have the potential to DOUBLE.
Hi, I'm Christian DeHaemer. I've spent years seeking out the biggest and brightest market-moving events that can send industries and stocks soaring.
In fact, this kind of pavement-pounding research is how I've built a portfolio of stocks that recorded a 461% gain in 2018.
Not only that, but last year alone we closed six positions — every single one a winner — with double-, triple-, and even quadruple-digit gains including:
Bitcoin — a 2,528% gain
Ethereum — a 1,040% gain
Physical Rhodium ETC — a 163% gain
USG Corp. — a 51% gain
Canfor Corp. — a 58% gain
We didn't have one loss in our closed 2018 positions.
And so far this year, we're sitting on another round of big winners — including a 110% gain in our hi-tech security stock and a 104% gain in my top fintech play.
To make a long story short: We're killing it!
That's my goal each and every year as the founder and editor of Bull and Bust Report at Angel Publishing. I'm dedicated to bringing you the most innovative and lucrative investments on the planet.
So dedicated, in fact, that while most analysts stay chained behind their computer screens crunching numbers...
I use the data and research I find... and then take it one step further, flying all over the world investigating ideas for new ways to profit.
That's how I've been able to spot some of the best and most profitable investments in the global markets.
And from the data I've recently analyzed, one market "boom" can not only help you collect a steady stream of 5% to 15% dividend checks...
But it can let you bank double-digit gains (or more!) on three unique stocks flying below other investors' radar.
That's why today I'm giving you the names of three unique dividend stocks you can win big on thanks to a big bump from the market.
1. Get Paid While Waiting for This Stock to Double...
In 2008, when gasoline prices were around $4 a gallon, I went looking for a new car. "What about these Mustangs?" I asked the dealer.
"Take your pick," he said, while he stuffed his cigarette through the hole in the tall plastic ashtray. "These will be the last muscle cars you'll ever see. Make me an offer; we have dozens of them."
No one was buying the gas-guzzlers back then because they thought oil was going to $200 a barrel. Of course, now car companies don't sell econoboxes and have regeared for big trucks and SUVs.
The simple truth is that oil is cyclical. This time is not different. Today's low oil prices will create tomorrow's high oil prices.
That makes Schlumberger (NYSE: SLB) the contrarian dividend buy of the decade. It hasn't been this cheap since 2009... the last time oil crashed.
Schlumberger is the world's largest oilfield services company. It employs 100,000 people from 140 companies and is ranked 287 in the Fortune 500.
SLB provides services such as seismic acquisition, well testing, directional drilling, as well as a vast array of energy production solutions.
When the price of oil is going up, SLB does great business and the share price pops. When oil prices fall, profits fall and the share price drops.
Here is the Brent crude oil price chart going back to 2000. You can see it leads SLB's stock price.
2. Stealth Bull Market in Coal
China is currently adding 259 GW of coal capacity — that's twice the amount of power used by Texas. Meanwhile, in India, The Hindu BusinessLine is reporting that 121 out of 123 power plants have less than five days' worth of coal in stock.
This is being blamed on new power generation, which has grown 7% a year. The fact is that both China (65%) and India (75%) are hugely dependent on coal-based electricity, which will be needed in even bigger quantities to lift their low standards of living.
Recently, Forbes reported, "U.S. coal exports increase by 61% last year as exports to Asia more than doubled."
You now have an investor's dream. Coal companies are undervalued because Wall Street has believed the lie that "coal is dead."
Not only that, but there is a production shortage and a demand boom. I've found a number of coal exporters that are paying huge 5% to 13% dividends and have earnings growth and money in the bank.
Coal Profits
Natural Resource Partners L.P. (NYSE: NRP) owns, operates, manages, and leases mineral properties in the United States. It owns interests in coal, trona, soda ash, construction aggregates, and other natural resources.
The company's coal reserves are primarily located in the Appalachia, the Illinois Basin, and the Western United States; aggregates and industrial minerals are located in Pennsylvania, West Virginia, Tennessee, Kentucky, and Louisiana; oil and gas royalty assets are located in Louisiana; and trona ore mining operations and soda ash refineries are located in the Green River Basin, Wyoming.
The company also operates four limestone quarries, one underground limestone mine, five sand and gravel plants, two asphalt plants, and two marine terminals. The company leases coal reserves, aggregates, and industrial mineral reserves in exchange for royalty payments.
NRP has a trailing P/E of $6.37 and a price-to-book of just 1.03. The company has seen quarterly earning growth of 47.20%, which is outstanding. It has also cut debt and interest costs. The company currently pays a 4.80% dividend.
No wonder the share price has been heading higher: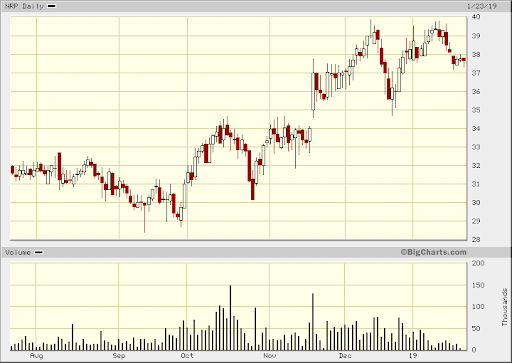 It's a stealth bull market in coal! And NRP is the way to play it.
3. Huge Yield, Massive Growth: It's All About the Data, Baby
If you really want to make money, there's no better system than the stock market. The average annualized total return for the S&P 500 Index over the past 90 years is 9.8%. But December 1999 to December 2009 was the worst decade for U.S. large cap stocks. Those returned a -0.95%, which is just terrible.
The goal is to avoid the losers and play the winners over the long term. To do that, you have to find consistent long-term growth at reasonable prices. And today, I'm going to tell you about one such stock…
It's called Broadcom (NASDAQ: AVGO), and it's been tearing up the charts for the past five years. The company has a compound annual growth rate (CAGR) of 31%.
Broadcom's Ten-Year Chart: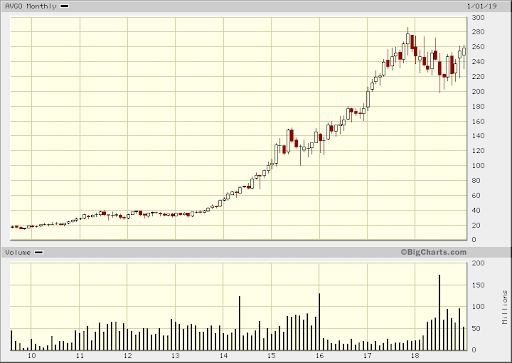 When it comes to big data and artificial intelligence, Broadcom is a long-term winner because the future is all about data — think cloud computing, 5G wireless, Internet of Things (IoT), and robot cars.
In 2015, there was 1 zettabyte (ZB = 1 sextillion bytes) transmitted by data centers. By 2020, there will be 4.3 ZB transmitted a year, and they'll continue growing rapidly. Broadcom creates semiconductors and other products that store and transmit data.
Its enterprise storage revenue is growing by 63% a year — that's better than cloud computing as an industry, which grew by 50% last quarter. For those who don't know, cloud computing is the practice of using a network of remote servers hosted on the internet to store, manage, and process data, rather than a local server or a personal computer.
It's far cheaper for a company to pay a monthly fee to Amazon or Microsoft and let them host and manage its data than it is to have a server in the closet. It should also be noted that the Department of Defense (DoD) is going to spend $10 billion in September on the cloud. This will be the biggest deal in the history of the industry.
Broadcom makes the hardware that runs the cloud.
In the most recent quarter, the company reported gross margin at 66.6%, EBITDA was 52.3%, and free cash flow was 42.3% of revenue. These are all records.
The company is also buying back $1.5 billion, or 6.4 million shares. Consolidated net revenue for the second quarter was $5.02 billion. This is right above the midpoint of guidance, with strong wired and enterprise storage results offsetting weaker wireless revenue.
In the latest quarter, wired revenue was $2.3 billion, growing 9% year over year and 22% sequentially. The wired segment represented 46% of our total revenue. Second-quarter wired results reflected a strong sequential increase in demand from cloud data centers and a seasonal recovery in broadband access.
Solid year-over-year growth was driven by the robust increase in networking and computation offloading in cloud data centers and also strong growth spending by enterprise information technology. The company expects these trends to continue.
Moving on to wireless: In the second quarter, wireless revenue was $1.29 billion, growing 13% year over year but declining 41% sequentially. The wireless segment represented 26% of total revenue. The drop-off was due to a decline in smartphone sales.
This is seasonal and should ramp up going into Q3 and move even faster when 5G rolls out. 5G is expected to be so fast that you'll be able to get rid of your cable bill. People are talking about 6.5 megabytes per second (MB/s) compared to 55 megabits per second (Mbps) for your home internet…
Enterprise storage in Q2: Broadcom's enterprise storage revenue was $1.16 billion and represented 23% of our total revenue. Enterprise storage segment revenue grew 63% year over year and 17% sequentially. In the second quarter, industrial segment revenue was $263 million, growing 17% year over year and 5% sequentially. The industrial segment represented 5% of total revenue. The company is making a lot of money on IT spending and cloud growth. It has $8 billion in cash and $10.5 billion left in stock buybacks…
Undervalued, plus a dividend: The company is also cheap. It has a price-to-earnings (P/E) ratio of only 8.64, which is one-third of its 10-year average of 28.4. It also has a price/earnings to growth (PEG) ratio of 0.84 and a dividend yield of 4.15%, which is also growing.
The trailing yield was 3.06%. And over the past five years, it's grown by 51% a year! So, why the short-lived sell-off?
Broadcom recently announced it was buying CA Technologies (NASDAQ: CA) for $18.9 billion in cash. The market didn't like it because CA Technologies is in IT mainframes, a mature and declining industry.
The market didn't like the buy, so it sold the stock. But CA Technologies' software side has margins of 64%. This will boost margins by about 8% and become accretive to both earnings per share (EPS) and free cash flow to about $5 billion a year.
This means it'll only take three and a half years to pay off. Seems like a good deal to me. If I were buying a dividend growth stock I wanted to own for 10 years, Broadcom would be it. In fact, I do own it.
These Stocks Are Just the Icing on The Cake...
The three stocks I named above are only the beginning of the numerous profit opportunities that await you.
Because just like how NRP, Broadcom, and Schlumberger could help you generate income while on their way to doubling, I've got another way you can claim regular, monthly "checks" for $2,531... $3,079... and even $6,223.
It's all thanks to a little-known Presidential directive that's part of President Trump's trade war plans against China.
Once you stake your claim, these checks MUST be paid to you — by law!
And you can collect your first check as soon as the next batch goes out.
For folks who have already discovered this monthly income secret, it's been life changing...
Just look at John S., 67, in Dallas, Texas, who collects more than $5,922 per month with his claim.
Or Sally W., a retired teacher in Pennsylvania, who collected $90,589 last year with her claim.
Any American who knows how to do this is can rake in the guaranteed cash that a claim can bring.
Trump's Plan to Beat China and Help You Get Rich
Basically, Trump is tired of China ripping us off, so he's making them pay.
President Clinton rolled over for China, and they've been taking advantage ever since.
For years, China has manipulated its currency, taken advantage of unfair tariffs, and totally gamed the system against America...
But the biggest problem America has had with China is the trade deficit.
We buy way more of China's stuff than it buys ours.
$375 BILLION more.
That's a problem!
And President Trump has made it clear that China must buy more American products...
Or he will just tax the stuff China buys from us to make up the difference.
And guess what?
China just caved.
China has an insatiable thirst for one specific thing...
Coal.
China can't use its own coal because it's not as high a quality as ours.
And they need it — lots of it — for energy and building infrastructure.
As a matter of fact, China was on pace to buy 89 MILLION TONS of coal from America this year.
And it just agreed to order even more.
I'm going to show you how you can rake in a massive amount of money from this each and every month.
You Only Need Two Things to Get Started
A $20 bill
The list of the best "coal contracts" to buy now.
You can get a "coal contract" for just $20...
Sometimes even less! And these "coal contracts" are available to you right now.
It's really easy once you know how to do it. It will only take you a few minutes and an internet connection to get setup.
But there is one catch.
You shouldn't just go buy any "coal contract." Some are better than others. And some pay out way more than others.
You have to know the best ones. And today, I want to introduce you to the companies at the top of my list...
Four Coal Companies Than Can Make You Rich
Coal Contract Claim #1
Claims: Limited Supply
Rating: HIGH
Operating in the Illinois Basin, this company controls 2.1 BILLION tons of coal deposits.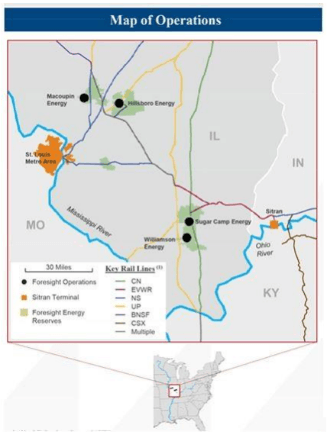 Its four mines specialize in producing thermal coal — exactly the type needed by not only Americans, but also overseas buyers like China.
It has invested heavily in state-of-the-art mining operations and the related transportation infrastructure.
That means it produces the kind of volume Trump's directive requires and can move it quickly and turn fast profits.
And you can make a claim for less than $4!
Coal Contract Claim #2
Claims: Limited Supply
Rating: HIGH
With coal mines based in Ohio and Wyoming, this company produced $7.4 million tons of coal last year.
It specializes in thermal coal and is strategically located near rail and barge transportation.
With Trump's new initiative, it will be a dominant player in the Midwest, Northeast, and Rocky Mountain regions.
You can snatch up a claim today for less than $2!
Coal Contract Claim #3
Claims: Very Limited Supply
Rating: HIGH
This company is flying under everyone else's radar.
It is a smaller mining company recently acquired by a huge mining juggernaut with $1.9 billion in cash reserves.
That gives it the infrastructure and funding it needs for fast growth.
You can stake a claim for $13!
Coal Contract Claim #4
Claims: Limited Supply
Rating: VERY HIGH
This is the most expensive claim I recommend, but it's for good reason.
Its coal deposits and mining operations span from one end of America to the other: Appalachia, the Illinois Basin, Louisiana, and the West.
Its management and operation teams are packed full of the best in the business.
And it is ready to take advantage of the new money rolling in thanks to Trump's order.
For around $30, you can stake a claim right now.
So how do you get the details on these four coal contenders in order to ride them to the biggest gains possible?
Simple.
You can get instant access to all of my most potentially lucrative coal contract plays right now when you take me up on this special invitation to start a risk-free trial of my Bull and Bust Report.
The minute you say "yes," I'll send you my straightforward guide titled, "The Four 'Coal Contracts' You Need to Claim Now."
In it, I'll show you how to stake your claim right away.
It's available today for immediate download, absolutely free.
Look, I've already written the book on energy investing. And by staying ahead of some of the biggest investment trends and stories, I've made some of the biggest gains imaginable.
Just take a look at the slew of the triple-digit winners my insight has produced:
351% on Entrée Gold Inc.
162% on Markland Technologies Inc.
256% on Allied Nevada Gold Corp.
235% on FieldPoint Petroleum Corporation
131% on Richmont Mines Inc.
247% on Africa Oil Corp.
515% on Palm Resources Pte. Ltd.
268% on China Yuchai International Limited
150% on New Zealand Energy Corp.
105% on Physical Rhodium ETC
108% on SSR Mining Inc.
502% on Plug Power Inc.
155% on Hi-Crush Partners
243% on Cemex
251% on Unilife Corporation
759% on Petro Matad Limited
As the founder of Bull and Bust Report, I'm constantly giving my readers cutting-edge investment analysis that can turn a bargain-buy stock into the next big winner in your portfolio.
But don't just take my word for it.
Take a look at just a few of the testimonials I've received from my readers:
"I've seen Chris in action before and he knows this business inside and out. It's hard to go wrong with his picks."
Cameron P. from Kansas wrote in to tell me:
"Up $21,000 in less than a week! Keep the very, very good recommendations coming!"
And Michael F. from Pittsburgh said:
"Thanks so much for turning me onto this pick. I got in late at 47 pence, but have been up 336% as of today."
Those testimonials mean the world to me.
It means I've helped regular folks live the lives they know they deserve.
Knowing that because of my research they've taken the wife on her dream vacation...
Put a child through college...
Or just splurged on the grandkids during Christmas...
That is why I do this.
Every month, I send my readers an alert going over the most profitable opportunities in the market.
As soon as I uncover, fully research, and totally verify an investment I'm willing to put my own money in...
I send out an urgent alert...
With my detailed but easy-to-understand analysis and step-by-step instructions you need to start making money.
The information in Bull and Bust Report can't be found anywhere else.
That's why, today, I'm offering you a 100% RISK-FREE trial membership to Bull and Bust Report.
Say yes to this special invitation, and I'll send you a FREE copy of "The Four 'Coal Contracts' You Need to Claim Now."
In it, I'll show you exactly how to collect checks from your coal claims forever.
I could probably sell this guide for hundreds or even thousands of dollars... and it would be worth it!
But today, it can be yours for FREE.
All you have to do is take a risk-free trial of Bull and Bust Report.
The BIGGEST Profit Opportunities at the Best Price You'll Find
Even at its normal price of $199 per year, Bull and Bust Report is a no-brainer.
But to make this an easy decision, I've put together a very special invitation for you.
Today, you can take it on a 30-day 100% risk-free test drive for just $49.
Start your risk-free trial today and hit the ground running with instant access to three special reports:
The Four 'Coal Contracts' You Need to Claim Now — China is on pace to buy more than 89 million tons of coal this year. I'll show you how to "stake a claim" in an operational coal mine and make up to $8,092 month after month.
Silver Super Cycle — Laptops, cell phones, televisions, tablets, printers... the list of products that contain silver goes on and on. And as technology advances, so does the demand for silver. Learn why governments are beginning to hoard silver and how you can use it to supercharge your income.
Get Paid to Own Farmland — Stake your claim in government-approved areas for as little as $12 with a program that pays you to be a "hands-off" landlord. You'll never pick up a hammer or fix a hot water heater... and you don't have to own any property. This report will give you everything you need to know to get started!
Not only will you have this invaluable research instantly available the moment you start your trial, but you'll also get:
Members-Only Portfolio Updates: You'll never have to wonder or guess about anything. Every single week, you'll get updates on all the news and information affecting any of the ideas I recommend in Bull and Bust Report.
Urgent Email Alerts: When there's a critical development in the market that requires your immediate attention, you'll receive an email alert with the information you'll need to exploit it. Whether it's an immediate sell, a chance to buy into a position at a ridiculously low price, or anything else, you'll have all the information in your inbox within seconds of us sending it out.
Support Staff Access: If you need anything from us, our trained customer support staff is available to you from 9:30 a.m. to 4:30 p.m. EST. Even though our support staff can never give personalized investment advice, I want to assure you that you'll be speaking with trained professionals when you call. You can rely on us to help you get the most from your subscription to Bull and Bust Report.
Access to the Complete Bull and Bust Report Portfolio: The portfolio is jam-packed with all my current recommendations, buy prices, and sell prices (our members rave about this section).
That's a total of $500 in free gifts and discounts (worth every cent!)... but you can take it all for a spin over the next 12 months for only $49.
Not to mention, you're covered by my 100% money-back guarantee. If you're not fully satisfied with Bull and Bust Report over the next 30 days, just call us and cancel. I'll return every penny of your subscription price... no questions asked.
Plus... even if you cancel your subscription, you still get to keep your issue of Bull and Bust Report... as well as the three special reports.
It's been said that "Nothing is more expensive than a missed opportunity." Please don't look back and kick yourself for not accepting this special $49 risk-free invitation when you had the chance.
I truly want to help you make this the most profitable year yet.
You can try it with zero risk... so subscribe now and keep the coal contract "checks" rolling in every month.
Christian DeHaemer
@TheDailyHammer on Twitter
Since 1995, Christian DeHaemer has specialized in frontier market opportunities. He has traveled extensively and invested in places as varied as Cuba, Mongolia, and Kenya. Chris believes the best way to make money is to get there first with the most. Christian is the founder of Bull and Bust Report and an editor at Energy and Capital. For more on Christian, see his editor's page.